Research Type:
Working Paper
Gaps in Identification and Support for Students Experiencing Homelessness and Housing Instability in Detroit
Homelessness and housing instability can have significant negative effects on students' academic and behavioral outcomes. Schools that endeavor to support students who are experiencing housing instability can only do so if they accurately identify students facing these challenges. This mixed-methods study provides deep, contextualized data on the experiences of housing unstable youth and families in Detroit traditional public and charter schools, whether and how they are identified as housing unstable by their districts, and what schools are doing to support them. We find that 16% of Detroit students were housing unstable in 2021-22, but Detroit schools only identified 4% of students as homeless under the McKinney-Vento Act. Our qualitative data suggest that this undercount is predominantly related to parents' feelings of stigma and shame associated with discussing their situation with their schools and in some cases a lack of follow-through when parents do divulge their housing issue. Housing unstable students who were not identified by their districts as such were more likely to have been suspended; identification was not associated with attendance or student mobility, compared to other housing unstable students.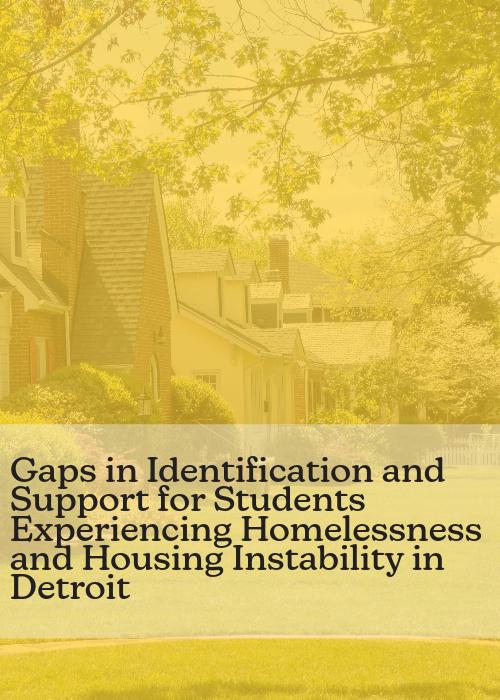 School Transportation Mode and Student Attendance Across Schools of Choice
The availability and reliability of school transportation is essential for regular student attendance at school. Yet, school transportation resources are stretched for both families and school districts in cities with widespread school choice, where students' residences do not determine where they enroll in school. This study provides some of the first evidence on how Detroit students get to school. Going beyond eligibility for the school bus, we use linked survey and administrative data to determine how students get to school, the student and school characteristics associated with riding the school bus, and how mode of transit is associated with attendance.